EL SEGUNDO, CA – January 8, 2018
3PL Central, the leading software provider of the first cloud-based Warehouse Management System (WMS), announced today its release of SmartView. This release is the next generation of its Warehouse Management Platform, 3PL Warehouse Manager. Created to help 3PLs better meet the needs of their customers, the SmartView experience includes a modern user interface, intelligent workflow capabilities, and a host of new features and functionalities all deployed utilizing a new REST API.
Offering core WMS features and functionality is key to the success of 3PLs who operate in increasingly complex and competitive environments. In alignment with their mission to empower clients with innovative technology solutions, 3PL Central has set a rapid pace of continued software advancements for 2018. The SmartView release is the first announcement, with additional feature releases scheduled throughout the new year.
"The SmartView release will help our clients take their WMS game to a whole new level," said John Watkins, co-founder and CEO. "With its clean, modern look and intuitive new capabilities, the next generation of 3PL Warehouse Manager will streamline the entire user experience, allowing our clients to get far more done, far faster than ever before. Most important of all, it will enable them to satisfy their existing customers and impress potential prospects."
These changes are designed to help 3PL Central's customers meet the growing demands of their clients by providing a WMS that is accessible, scalable, easy to integrate with other systems, and can effortlessly manage day-to-day tasks.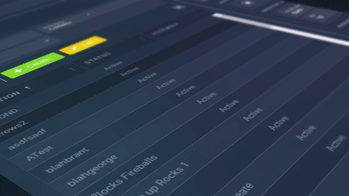 "3PL Warehouse Manager with the SmartView experience is the latest embodiment of our relentless mission to help our clients exceed their customers' expectations," continued Chief Technology Officer, Sheridan Richey. "Deployed on a cutting edge REST API, warehouses can connect to the platforms their customers need and truly be a command center for their supply chain ecosystem. The SmartView release provides enterprise-level inventory management, connectivity, flexibility, and compliance. The result is a powerful WMS that enables complete warehouse management from one centralized data source."
In addition to its new user interface, improved navigation and scalability, the SmartView release introduces a number of significant feature improvements to 3PL Warehouse Manager, all of which are integrated within its
cloud-based warehouse management platform
. Some of these updates include:

Enhanced navigation to maximize usable workspace

Sophisticated data filtering with quick views

Intelligent workflows and branding capabilities to tailor system by warehouse, location, item level, and customer

Inventory hold status, giving warehouses the ability to designate items as "on-hold" to prevent them from shipping
"3PL Central's SmartView release dramatically improved our efficiency handling large complex orders and receivings. Our users love working with its modern, well-engineered graphical interface," said Pete Tromblee, CIO, The Northeast Group. "I value its comprehensive REST API's, which empower us to handle unique customer requirements in-house and keep our customers happy."
To learn more about 3PL Warehouse Manager SmartView, please visit this page or schedule a demo with one of our experts at 3PL Central.
About 3PL Central:
3PL Central is the leader and most popular cloud-based WMS available in the Third-Party Logistics and Warehousing industry marketplace. The company's products seamlessly integrate with a large and growing number of eCommerce enablement technologies, EDI providers, ERP platforms, accounting packages, shipping partners, and other supply chain technologies to deliver a full warehouse management platform to its customers.
Since 2006, 3PL Central's software solutions have grown exponentially, providing enterprise-class WMS functionality to a range of warehouse operations who need a nimble SaaS WMS while remaining easy-to-use, flexible, and scalable.
Designed to meet the unique needs of today's high-tech warehousing operations, from traditional 3PLs to Fortune 500 Distribution Centers, the company's products help their customers increase sales, streamline operations, and improve customer satisfaction. All while expanding overall profitability.
For additional information, please visit www.3plcentral.com.