Last year transformed the logistics industry.
During the pandemic, supply chains experienced unprecedented and accelerated growth—and it shows no signs of stopping. This is especially true for ecommerce, which grew 44% in the United States last year—nearly triple the 15.1% year-over-year jump seen in 2019.
As with any booming marketplace, this also brought growing awareness and pressure to meet consumer demands. The rapid development of the supply chain industry supercharged manufacturers, retailers, third-party logistics (3PL) providers, and everyone in between to think about new and innovative ways to remain agile and efficient amid a post-COVID boom.
Now, in an already thriving marketplace, 3PL warehouses must prepare for the upcoming peak season while continuing to scale, remain nimble, and meet customer demands.
Peak Season in the Post-COVID Boom.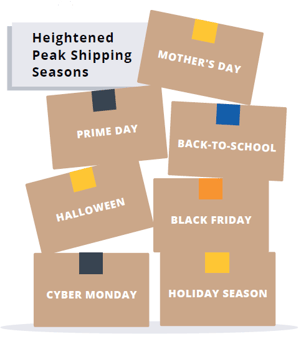 The rise of omnichannel fulfillment has made peak seasons even more critical for warehouses who look to take advantage of an expanding marketplace. Last year, online sales during the winter holidays grew 45.2% year over year despite the many challenges the pandemic brought with it. In addition, peak seasons seem to continually expand and can include other buying surges such as Chinese New Year or Prime Day, which helped third-party sellers make more than $3.5 billion in sales last year.
With so much business potential riding on peak season, how can third-party logistics warehouses prepare and plan for maximum accuracy and efficiency while remaining focused on current business needs?
Here are five areas 3PLs must focus on to prepare and plan for maximum accuracy and efficiency during peak shipping seasons.
Improve Operations
Increase Profitability
Invest in Technology
Boost Visibility
Enhance the Customer Experience
With the exponential growth of ecommerce fulfillment, the rise in peak season orders shows no signs of slowing down. Plus, supply chain disruptions are predicted to continue this year, leading to even more inventory and shipping complexities than ever before. To prepare your 3PL business for peak season, conduct a warehouse audit as soon as possible. To ensure efficiency, prepare for peak season early so warehouse staff has time to implement new technologies, processes, and workflows as needed. By optimizing warehouse operations sooner rather than later, 3PLs will have a greater opportunity to communicate with customers and prepare themselves for a successful and lucrative peak shipping season.
---