Small Parcel Suite: Efficient Paperless Best Practices for Growing Warehouses
Today's 3PL warehouses must be prepared to meet the rise of ecommerce and omnichannel fulfillment services head-on.
Built with 3PL best practice workflows, our cloud-based WMS is designed to ensure warehouses can keep up with today's high order volumes while maintaining peak performance — priming your logistics business for growth.
Small Parcel Suite, comprised of SmartPack™ and SmartParcel™, creates a seamless ecommerce and omnichannel fulfillment experience for 3PLs looking to reduce manual and paper processes and increase order accuracy, improve operational efficiency, and reduce shipping costs.
The Value of the Small Parcel Suite
3 minutes
Save 3 minutes per order with the Small Parcel Suite reducing packing time by up to 50%
$1500
Monthly warehouse savings by automatically printing the lowest cost shipping labels
100%
Accuracy with Small Parcel Suite to ensure each order is correctly packed and labeled
Best Practice Pick, Pack, and Ship Workflows
SmartScan combined with the power of the Small Parcel Suite provide an end-to-end solution for ecommerce and high-volume fulfillment services in three simple steps. These best practices deliver repeatable and scalable workflows to enhance 3PL ecommerce and omnichannel performance and accuracy.

Pick with SmartScan
Remove employee guesswork with onscreen picking instructions directly on your mobile scanning device.

Pack with SmartPack
Accurately scan and verify each order once with paperless functionality and stop rechecking orders.

Ship with SmartParcel
Batch print labels, connect with carriers, and select the best shipping rate from within 3PL Warehouse Manager.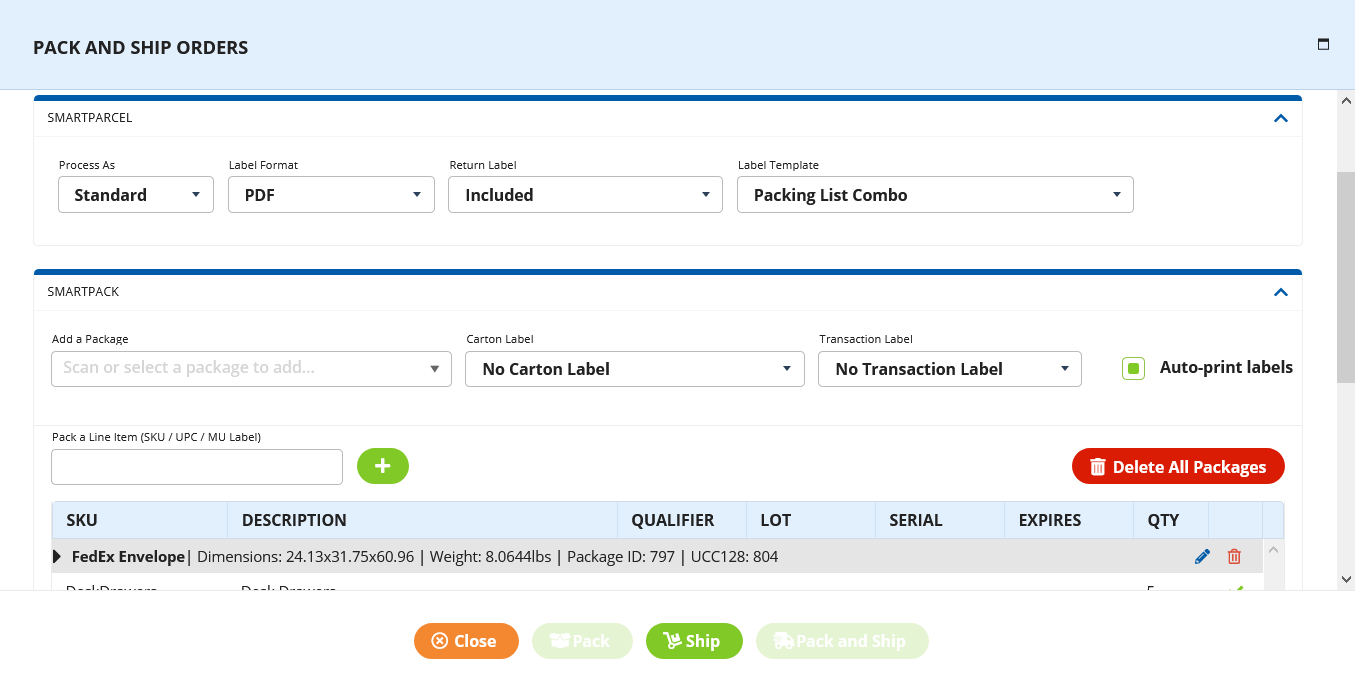 SmartPack ensures each order is accurately packed before completion, removing errors from manual entry.
SmartPack Software– Streamlined Packing Accuracy
Packing processes should be effortless and efficient. SmartPack Software simplifies and automates packing.
Scan required items ready to be packed.
Pack tracked items and easily confirm what is missing.
Verify all items are packed prior to marking an order complete.
Using a hand-free process eliminates manual errors and increases efficiency for warehouse staff. Scan once, pack once, and verify each order in real-time—every time.
Assign dimensions, tare weight, actual weight, and UCC-128 labels
Track outbound serial numbers without manual data entry
Verify lot numbers, serial numbers and expiration dates for each item
Print retail-specific labels by selecting a retail partner from a drop-down menu
SmartParcel – Shipping Best Practices for Top-Performing 3PLs
Shipping is labor-intensive. By automating shipping processes, SmartParcel empowers warehouse workers to process every order efficiently, accurately with minimal training required, and with the best rate at the best time with rate shopping. SmartParcel is integrated with ShipEngine, the leading multi-carrier provider that powers Stamps.com and ShipStation, and offers 3PLs the ability to easily support high volume shipping, integrate with more carriers, and reduce shipping account set-up time to mere minutes.
With Small Parcel Suite's SmartParcel, say goodbye to:
Learning and using multiple software systems to ship one order
Manually importing/exporting shipping and package details
Typing addresses into different carrier systems
Retyping tracking numbers by hand
Manually shopping for the cheapest shipping rates

SmartParcel lets you manage multiple carrier accounts per customer within the WMS.
Small Parcel Suite offers a seamless experience for warehouses and their customers.
Seamlessly Integrate Shipping Carriers for the Lowest Rates
Take the complexity out of managing carrier accounts and stop manually searching for the lowest shipping rate. Small Parcel Suite offers 3PLs the power to choose the best rate for their customers every time.
Manage shipping workflows with ease and:
Set-up carrier accounts in minutes
Manage carrier accounts by customer using their own negotiated rates
Pre-populate shipping addresses and package details
Instantly select the best shipping rate from your most used carriers with Rate Shopping
Print shipping labels from within the WMS
Create custom labels for printing, shipping, and billing
Offer FedEx One Rate to customers looking to do flat rate shipping
Amazon Buy Label Printing with Small Parcel Suite
Merchants who are part of Amazon's Seller Fulfilled Prime Program have strict service level agreements like the ability to perform two-day shipping. 3PL Warehouse Manager's Small Parcel Suite supports these Amazon sellers by offering Amazon Buy label printing from within the WMS.
With Small Parcel Suite's Amazon Buy Label Printing service, your warehouse can offer value-added services to:
Streamline workflows by printing Amazon Buy labels directly from the WMS

Help 3PL customers comply

with Amazon's strict

service

level

agreements

Increase visibility of Amazon shipment data
Control shipping settings such as carrier setup, rate shopping, and more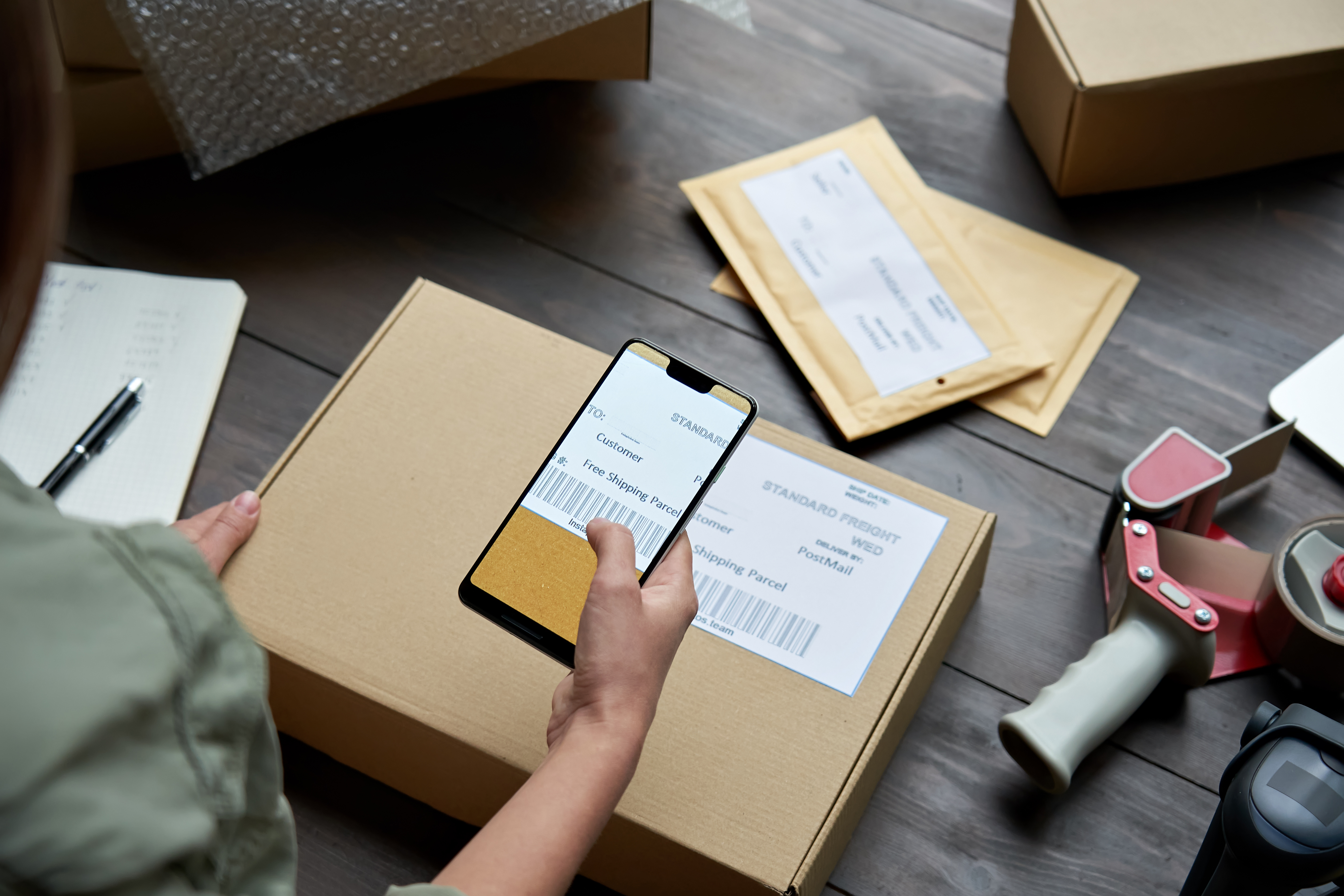 Small Parcel Suite supports Amazon Buy Label printing for 3PL customer's with Amazon Seller Fulfilled Programs.
Testimonials
Implementing SmartPack and SmartParcel allowed us to expand our services to ecommerce fulfillment while cutting costs nearly in half.

—Vice President, Javelin Logistics

Learn how Javelin Logistics went from a labor-based to a technology-driven warehouse.
SmartPack™ is an additional add-on feature that provides 100% verification of package contents via a scan, pack, and verify process using a USB scanner. Track and verify lot number, serial number, and expiration dates, and track outbound serial numbers with the SmartPack feature.
Ready to see how you can improve packing and shipping for your 3PL?
Fast-growing 3PLs have a higher likelihood of performing ecommerce or omnichannel fulfillment, while those 3PLs with declining or no growth were 271% less likely to perform omnichannel fulfillment center.
Don't be left behind.
3PL Central customers see an average of 22% order growth year over year when implementing our warehouse technology solutions.