Trekka Logistics Uses 3PL Warehouse Manager to Personalize Customer Experience
Trekka Logistics specializes in warehousing and distribution, short and long-term storage, kitting, and transportation for small and emerging ecommerce and retail businesses. Trekka Logistics' business model empowers their customers in different phases of progression with different sales cycles to customize their fulfillment model. Some of their main accommodations include same-day receipts, priority orders, and other exceptions for their customers.
Trekka Logistics was born based on the ecommerce and distribution needs of the small and emerging businesses market—small companies with highly personal needs who were being forced to fit into a larger company's fulfillment processes. Due to relatively lower order volumes, many of the smaller businesses Trekka Logistics caters to often did not receive the services they needed from their previous fulfillment partners.. By offering a space to allow these companies to grow, Trekka Logistics required a warehouse management system (WMS) with a high degree of flexibility in their workflows. Automation was essential to operating at scale but being dynamic enough to provide that level of customization to their customers was a high priority.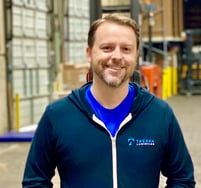 ""We wouldn't have grown how we have without 3PL Central."

Matt Ericson, Founder and Owner, Trekka Logistics
Providing Flexibility at Scale
3PL Warehouse Manager provides structured automation Trekka Logistics needs to increase their agility, allowing them to better serve their customers and take on many new ones. Utilizing their WMS software, they are training their customers to use the customer portal to place orders and empowering them to own their processes. This has enabled greater transparency for their customers and given warehouse customers the ability to self-serve instead of depending on Trekka Logistics for their order status, tracking information, and order charges. 3PL Warehouse Manager has also allowed Trekka to utilize auto-notifications and push information to customers. 3PL Warehouse Manager captures all charges on a line-item level, which allows their customers to budget and forecast based upon their needs and changing trends in specific industries. Trekka Logistics can customize customer requirements and then follow a single process for every order, increasing trust in their operations and faith that they can take on new customers with ease.
Business Needs



Scalable processes that allowed for growth

Flexibility fulfilling orders for customers with unique needs

Empowering customers with customized workflows

In addition to the customer portal, real-time inventory visibility has been a key benefit of using 3PL Warehouse Manager. Access to inventory reports and stock status locations has been crucial for Trekka Logistics customers that utilize 3PL Warehouse Manager as their primary inventory management software. 3PL Warehouse Manager, working in tandem with the SmartScan mobile scanning application, allows Trekka Logistics to provide the location and status of their customers' inventory, whether it is in receiving, pick location, or quarantine. In this way, 3PL Warehouse Manager has allowed them to remove manual processes from fulfillment, do things right the first time, and move quickly to the next order. 3PL Warehouse Manager also integrates with Amazon, ShipStation, Shopify, Shopify Plus, and Walmart stores, and comes with built-in assembly, and other features that have allowed Trekka Logistics to scale operations dramatically.
"3PL Warehouse Manager has allowed me the flexibility to say yes."
Transformed From the Inside Out
Today, Trekka Logistics blends process-based automation with a hands-on industry expertise approach to facilitate and guide client growth. 3PL Warehouse Manager allows them to walk new and emerging businesses through the automation process and offers them the flexibility to say yes to customer requests and exceptions. Further, it has opened new sales channels due to their increased ability to process and support customers' needs, leading to an 81% increase in their customer base since adoption.
Implementing 3PL Warehouse Manager Outcomes



57% revenue growth each quarter during the first year
81% increase in new customers since adoption
190K+ orders shipped using 3PL Warehouse Manager
Now that Trekka Logistics can process orders at scale, they have gone from a small warehouse recovering from a snowstorm maintaining a small customer base to a fully automated warehouse operation, processing more than 190,000 orders in the past year. Since their implementation, Trekka Logistics has seen 45% quarterly revenue growth. Trekka Logistics rates their support experience with 3PL Central as "fantastic" saying that they receive the same level of personalization and care that they provide to their own customers. Trekka Logistics expects to continue to grow this peak season, impacting the fulfillment world one employee and one small business at a time.
---
About Trekka Logistics

Trekka Logistics was founded with the passion and purpose to navigate the expanding ecommerce and distribution market. With more than 20 years of logistics, transportation, warehousing, and distribution experience, Trekka Logistics has the expertise to find the right solutions for any company. They understand the complexities of today's global market and have the tools to make the world smaller and simpler for small businesses.