Shipontime Uses 3PL Warehouse Manager to Combat Labor Shortage
Serkan Yildiz, the owner of Shipontime, founded the business on knowledge gained from his previous company, an ecommerce business specializing in brand-name beauty products. He transferred that skillset to his new warehousing business, focusing on Fulfillment by Amazon (FBA) prep. During the first few years, Shipontime experienced success with two to three large customers who filled his 57,000-square-foot space up with multiple products. However, like many business owners, he was forced to pivot during the global COVID-19 pandemic.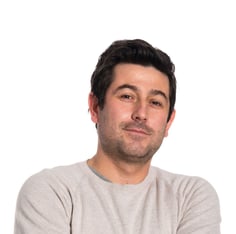 "

Just by looking at my time,

my employees' time, and how things are going, it would be a minimum 50% increase in productivity

, if not more."

- Serkan Yildiz, Owner, Shipontime
Labor

Challenges
Shipontime's biggest challenge since the pandemic has been finding and retaining employees. Even though Shipontime increased wages the previous year, many new employees start and turn over within weeks for another offer. This means that new employees are constantly being trained on the warehouse systems and processes, a time-consuming effort that can be a waste of resources if employees choose not to stick around. Shipontime needed a way to streamline processes so that it could easily scale to get new employees on the warehouse floor fulfilling orders quickly.
Shipontime started out using a simple task management platform to track FBA prep efforts throughout the operation. However, while the software provided organization, it required manual input of information and didn't enable communication with clients about their products. Shipontime's resources were used inefficiently, trying to manually track customers' orders and inventory levels and report accurately back to their clients. In searching for a new system, enabling a great customer experience was key, as resolving issues in real-time was essential to optimizing time spent on individual cases.
Challenges
Hiring and training new employees
Inefficient and delayed communication with customers
Manual data entry and inventory tracking
Concerns about onboarding new customers
Primary Outcomes
Shipontime implemented and went live with 3PL Warehouse Manager and SmartScan within a couple of weeks. Staff received professional, crisp, step-by-step training during implementation. Training was also supplemented with information from 3PL Central's Help Center, which supplemented the implementation training and helped Shipontime quickly set up customers in the system. This enabled an estimated 50% increase in productivity. Using 3PL Warehouse Manager, Shipontime has created a procedure for adding and managing customers that staff can easily follow, which frees upper management up to spend time on growth activities for the business.

"I have so much more time and less stress. I don't have to search to find how much inventory a customer has or what orders we've processed. We've simplified everything."

Since using 3PL Warehouse Manager, Shipontime has optimized communications between customers and employees, given customers real-time visibility into the system, streamlined processes, and completed orders faster. Shipontime can now take on more clients since the simple workflow allows for faster employee onboarding and training and they can set up accounts within the system independently. Upper management needs to spend little time in the software because the system is so easy to use for employees. Now Shipontime can focus efforts on growing the business through the pandemic and beyond.

"Now I have the ability to handle more clients. Before 3PL Warehouse Manager, I didn't have time to look for new clients. I was putting all my effort into handling existing customers…now I can do the necessary things to grow the business."
Implementing 3PL Warehouse Manager

Outcomes
Faster onboarding for new employees with a workflow they can easily learn and repeat
50% increased productivity and saved time by streamlining customer communications through the system
Resolving issues in real time with a responsive support team and dedicated Customer Success Manager
Able to focus on new customer acquisition because of optimized and scalable processes


---
About Shipontime

Shipontime is an FBA Prep Service provider located in North Carolina. They offer FBA replenishments (storage & forwarding), labeling, bagging, bundling, handling fragile units, and other custom works for ecommerce businesses. In addition to Shipontime's economical pricing model, they pride themselves on speedy service to help their clients increase sales.