In today's market, competition for customer contracts has never been bigger. With so much demand for fulfillment providers, new third-party logistics (3PL) warehouses are sprouting up every day. Some of these newer warehouses have never done 3PL fulfillment and need an edge over the more established 3PLs or they are winning business by underpricing their competitors. No matter what side of house you are on, you need to make sure you are bringing everything you can to your sales pitch.
Today I am going to talk about three key sale points that exist within your warehouse management system (WMS) that you need to have in your pitch! We have seen these talking points help our 800+ customers land big contracts that allow them to scale. The list includes: Visibility, Flexibility/ Connectivity, and Productivity -KPIs.
Visibility
Visibility always ranks as a top concern for a customer. Whether that's knowing how many orders went out in a day, what their inventory levels are, and if they need to reorder product. What are their fastest moving products? What stage of the process is a particular order? Your customers get asked these questions every day and with your WMS you they can answer every single one of them with out ever having to pick up a phone or write an email.
With a warehouse management system, your 3PL warehouse can provide virtual access through a customer portal so your customers can always have their finger to the pulse of their products. Most warehouse management systems will provide automatic updates to the customer when an order has been sent out for delivery or when a particular item has dropped below a reorder point.
This level of visibility is exactly what your customer demands and can help make the difference over the competition.
Flexibility / Connectivity
Being able to adapt your warehouse's operations to customer needs has never been more paramount in the 3PL space. What some companies were doing a year ago may have done a complete 180. Having the ability to come to a pitch knowing your WMS can support several different workflows and take on additional value-added services that might fall out of the normal could be the slight nudge you need. If I am an ecommerce warehouse but my new customer also has some kitting operations, I can look to my WMS's assemblies/kitting module to help show and track that operation.
The same concept goes for connectivity. Being able to tie into an ERP, Shopping Cart, or EDI Partner has been the determining factor in many deals. When you have a WMS or a WMS partner you can always loop them in to be the technical expert on how to connect to make your potential customer know you mean business.
Productivity KPIs
Nothing makes a customer feel better about your ability to process their orders effectively than when you walk into a pitch and show detailed reports on exactly what your warehouse's throughput pace was by employee over the past three months. When you approach a sale you always want to have data backing you up. With a WMS, all the work you do is tracked and your WMS can provide you reports on key selling points to the customer, like Item Aging reports, Inventory Turns Analysis, or live Stock Status reports. Leverage these reports in your pitch and show them how your current customers get more out of their data by being able to see live KPIs, and that with your 3PL warehouse they can too!
Using WMS Software as a Differentiator in the Sale
3PL Central recommends you use Visibility, Flexibility/Connectivity, and KPIs as three of the main selling points in your new business strategy. We see our clients use these points every day to land customers. Make sure you leverage all that your WMS has to offer from its customer portal, reports, or its technical knowledge to show your potential customers what they get when they partner with your 3PL warehouse.
To learn more about how 3PL Central customers use 3PL Warehouse Manager WMS to help land customers, schedule a demo today.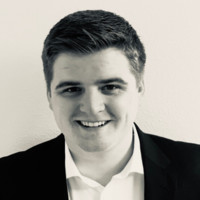 Louis is a Solutions Engineer with a specialty in SaaS technology for the logistics industry. Passionate about using technology to solve business challenges and alleviating pain points through systems integrations such as AI, Business Intelligence, transportation, and warehouse management solutions for 3PLs.